~The Skullgirls forum was removed many years ago and I was denied resurrecting it, hence this thread~

~What is Skullgirls 2nd Encore?~
Skullgirls is a 2D fighting game independently developed by Reverge Labs and co-published by Autumn Games and Konami. In Skullgirls, players engage in combat against one another with teams of one, two, or three characters, attempting to knock out their opponents or have the most cumulative health when time runs out. The setting of the game revolves around the "Skull Heart", an artifact which grants wishes for women. If a wisher with an impure soul uses the Skull Heart, she is transformed into the next "Skullgirl", a monster bent on destruction.
~Characters introduction~
Filia
Filia is a very in your face type character with the speed and pressure to match. She has a bit of trouble getting in but once she has, she can wreck havoc and force you to guess a rapid fire of resets and sneaky mix ups. She is a very beginner friendly character as she is easy to play and is very versatile in what she can do on a team.
Cerebella
Cerebella is, of course, a grappler. This means that she has a lot of grabs. Unlike most other grapplers, though, she has some pretty good combos. Most grapplers are slow, too. Not Cerebella. If used right, she can float like a Butterfly and sting like a Freight Train. I'll get more detailed later, but her play style revolves around some really long ranged moves, hard hitting combos, armor, and grabs.
Peacock
Peacock has the moves, the toys, and the mean streak to play a perfect zoning game. All three George projectiles can appear on screen at the same time to stick her opponent into frusturating lockdown from any range. Her teleport has the versatility to take her right to her opponent's face for a suprise close range attack or ruin the opponents fun by taking her out of a corner. At full screen distance her gun shots confirm that any of her combos can end with an aganozing look into the eyes of Argus. Peacock's ideal range depends on the matchup, but with a strong Ensemble to back her up she'll always find a way to fill the screen with garbage.
Parasoul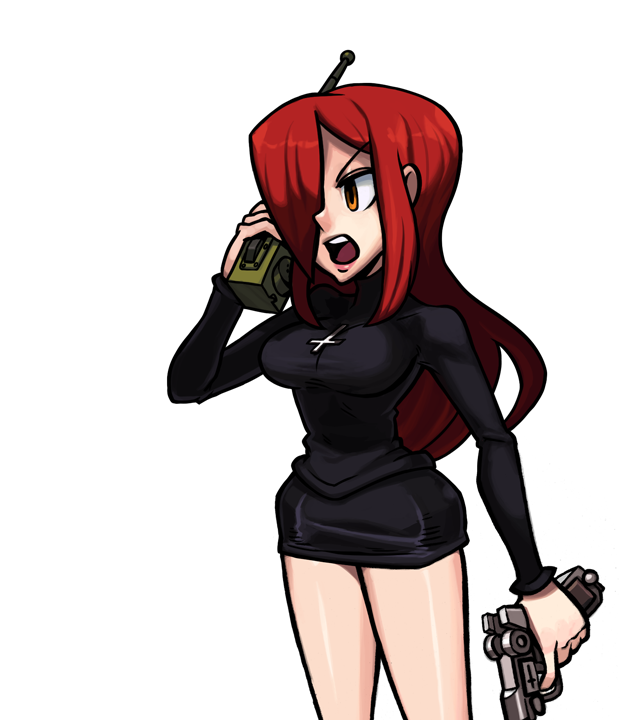 Parasoul's charge commands and uneven stride may seem awkward at first, but with some skill her long range pokes and versatile projectiles combine with the elegance expected from royalty. Kreig's flames can detonate the napalm tears left after her special moves, letting Parasoul add hits to her combos or effectively control space as long as they remain on screen. The overall priority of her jump in attacks command respect out of any opponent, opening them up for a well timed Ensemble. Parasoul plays well on a team but is bold enough to fight solo. The Black Egrets have her back to the bitter end, even if it means taking a bullet for their princess.
Ms. Fortune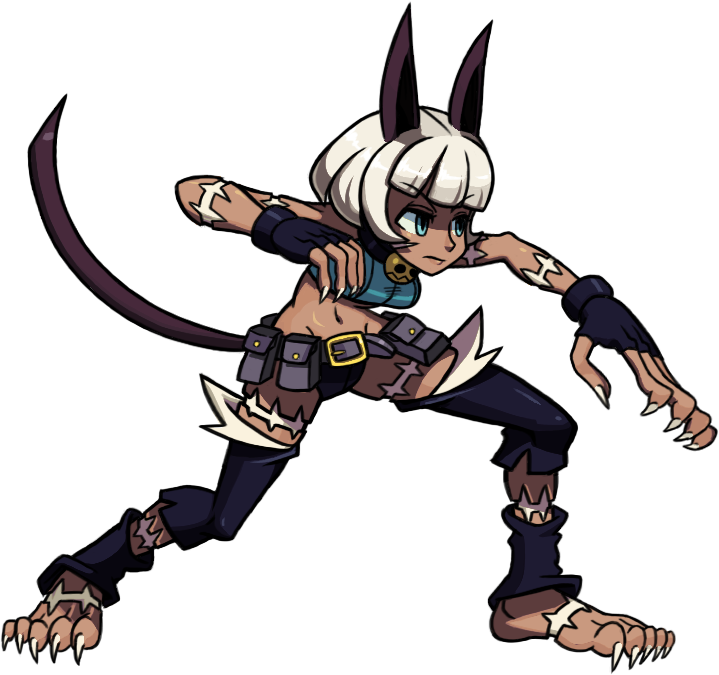 Nadia doesn't let her misfortunes slow her down. With her head on her shoulders, her HP button attacks give her a perfect air dash cross up attack and huge damage from her heavy normals. If she decides to drop her head, is becomes an independent, hard to hit threat while the body attacks with a mind of its own. Trapping the opponent between Ms. Fortune's pieces can lead to obnoxious block strings, ambiguous cross ups, or even the dreaded "sandwich" combo. Maybe she never needed a head to begin with? Ms. Fortune plays best as part of a team, happily tagging out when her head gets in trouble and offering a point character a few unique tricks with her headless Ensemble and tag in tactics.
Painwheel
Painwheel, after all of her mind control and physical augmentation, plays with a fearless rush down strategy. It's the only thing she was designed for! While Flight offers her more air mobility than any other character, she cannot use it to cowardly hold up and back. Flying down and forward moves much faster. Combined with her powerful air normals, her down-forward momentum can recklessly crash Painwheel into a helpless grounded opponent. Hatred Guard moves absorb incoming hits and return the pain to her victims, allowing Painwheel to attack while ignoring counter hits. Charging up some Hatred Guard normals gives Painwheel staggers, floor bounces, crumples, and variety of other heavy hitting stun effects that all lead to devastating Flight combos. On a team, Painwheel can support her relentless offense with an Ensemble, tag out if she's taken too much recoverable damage, and come back in with a Blockbuster Sequel to Hatred Install.
Valentine
Valentine shows up to her fights fully equipped with a suite of medical implements, ninja weapons, complicated normal moves, multiple IADs, poisons, and all of the accouterments needed for a traumatizing rush down strategy. Injecting opponents with poison can deal damage over time or frustrate defending players by leaving a sluggish or laggy character under their control. Valentine preforms best on a team, either by coming out strong with an anti-air Ensemble as backup or by playing anchor and burning meter with her many Blockbusters. If her teammates go out first, Valentine will be happy to use their Dramatic Tension (and maybe even their corpses) as the last hope for the team.
Double
Double's fights in her true form, an amorphous blob that steals normals from other cast members. Her more creative specials and Blockbusters perform original attacks as an imitation of another character. Even if they look similar, Double's moves have subtle advantages and disadvantages compared to the original. Double's weight and small size in the air let her fall out of familiar air combos, which forces the other player adapt to Double. Because of her powerful Ensembles, Double doesn't often play as a point character. If she ends up as an anchor, she can use her team's leftover meter to pressure with her level 2 Blockbuster or a flashy level 5.
Squigly
Squigly's special moves are done through her two stances, which need time to charge up. Squigly's jump is floaty, her dashes take some time to build momentum, and she doesn't have traditional projectiles. With so many quirks, how does she control the opponent and deal damage? Leviathan can stretch, giving Squigly some far-ranging attacks - especially when she's airborne. As an opera star, Squigly can sing with her Center Stage special, forcibly shifting the screen as all eyes focus on her. Belting out a Squiqly Battle Opera pins a projectile to a fixed screen location, giving her a unique tactic to pin down an opponent. Her powerful options for a custom Ensemble can frustrate the opposing team in unexpected ways, all of which combine well with the more traditional strategies from the rest of the cast.
Big Band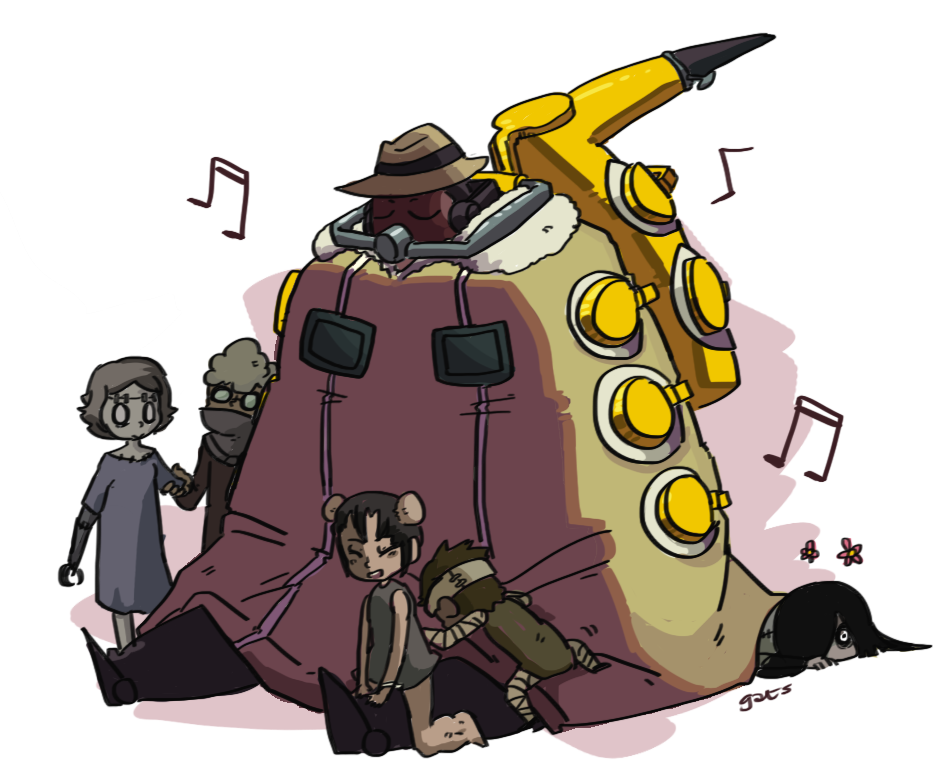 Big Band's augmented body is a heavy burden, forcing him to work relatively hard to catch his smaller opponents. Fortunately, his variety of woodwind, brass, and percussion weaponry can covert even the smallest hit into a short, damaging combo. His sound based powers also give him unique stuns, powerful armored Ensembles, and a taunt that further boots his damage. Can he carry all that weight and the low-tier precedent set by Q, Mr. Heart, and Tager? At minimum, his solo play as a jazz musician should be more pleasant than those obnoxious giant robots from TVC.
Fukua
Fukua. Everybody's favorite clone. The result of a fortunate, or unfortunate, Lab Zero accident. A union of two souls. One, a once proud warrior known for her brute strength in close combat, the other a silent assassin who specialized in ranged weapons for her kills. Fukua is the jack of all trades in Skullgirls. She has a fireball for zoning and midscreen pressure, she has both a command grab and an armor grab, her shadows keep the opponent guessing and she has one of the fastest pokes in the game.
Eliza
As the hottest lounge act at Club 28, Eliza mesmerizes crowds with her golden microphone stand, the Staff of Ra, as effortlessly as she swings it during her massive normal moves. Her bodyguards, Albus and Horace, are quick to defend Eliza should the fans get too close. Even though her talent and fame are enough to win a fight, she hides her true strength just under her shiny tan; unleashing Sekhmet puts the skeletal parasite under direct player control with her own set of abusive attacks. Eliza must first satisfy her hunger for Tension to satisfy Sekhmet's hunger for blood, so she is best played on a team that can help build meter and take advantage of her Sequel-friendly set of Blockbusters.
Beowulf
Beowulf usually just relies on his holds, throws, open-handed strikes, and high-flying finishing moves for professional wrestling matches. For the no-holds-barred fight for the Skull Heart, he's brought his trusty folding chair. While The Hurting has a proper name, the chair was likely named only to sell replicas at the merchandise stands. It isn't a living weapon, parasite, or anyting fancier than a piece of steel, but it still gives Beowulf a tremendous edge in battle. He can throw it, pick it up, set it down, kick it around, use it as a spring board, or maybe even force his opponent to take a seat and watch him cut a promo. He's not just going to hit people with it like the boring Kanji. Comparing Beowulf to Litchi would more sense, but Litchi never went all Rob Van Dam on someone with her staff.
Robo-Fortune
Robo-Fortune is the other zoner in the game, and plays more like a character from Guilty Gear than anyone else in the cast, due to the strange properties of her HK. Robo-Fortune excels at playing keep-away with her mobility-enhancing jump cancels, variety of head tricks, and of course, her big fuck-off lasers